| | |
| --- | --- |
| Mpulse drummers present world rhythms from various cultures. Performing at community centers, schools, church events, and civic functions throughout the midwest United States the group entertains and also includes the audience, with world drumming. | |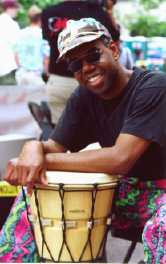 Kenne Thomas (Leader - Jembe, Balaphone, Dun dun, Percussion) - Teacher, Author, with 30 years of percussion performance experience. Kenne teaches and does, "Drums From A Small Planet" workshops around the midwest. He is the author of the drummer and facilitator book, "Drum Circle Cookbook", and the instruction books, "Conga Drum Fever" and "Hand Drumming Independence".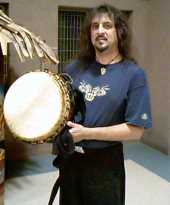 Mark Lopez (Jembe, Dun dun, Percussion) - Mark plays jembe with the group. He enjoys playing jembe and conga, and is very happy to be a part of Mpulse! He is a filmmaker, with credits ranging from local independent films to music videos to TV commercials. He is a former bass player of the Twin Cities dance band "Affair", which toured the Upper Midwest as well as Montana, Wyoming and Colorado in the mid 1980's. He also played bass, guitar and keyboards in several other local Twin Cities bands. Mark is an aficionado of, and self-styled expert on old monster movies and Halloween, and thus, prides himself on being the "scariest" member of Mpulse!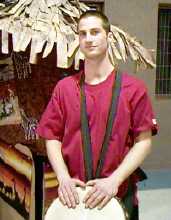 Mat Dames (Jembe, Dun dun, Balaphone, Percussion) - An excellent and tasteful drummer Mat plays Jembe with the group and doubles on dun dun. A well traveled musician, Mat's experience includes studies with Fore-Fote.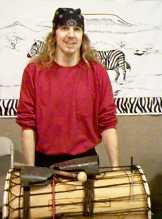 Dan Engebretson (Dun dun, Jembe, Balaphone, Percussion) - Dan is a well rounded world percussionist who started playing the drum kit for various bands 20 years ago. He has played rock to heavy metal to folk to punk and has also played congas and percussion for the Latin singer Caterina. He involves himself in community drum circles, sometimes organizing them as well. Dan's passion is West African music and sites the late Babatunde Olatunji as his main influence. In Mpulse he holds down the bottom end on the djundjuns but plays the djembe as well. Aside from his love of music, Dan enjoys art and travel, being to Europe a number of times and South America as well.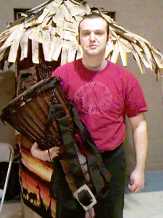 Abe Sigmund (Dun dun, Jembe, Percussion) - A versatile drummer, who plays for West African dance ensembles, Abe plays Kenkeni for the group as well as jembe.
---
Back toMpulse main page
copyright © 2001-08, Site created at Alternative Designs