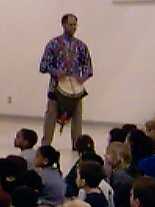 Kenne Thomas (Jembe, Dunun, Bala, Perc.) - Teacher, Author, with 30 years of percussion performance experience. Kenne teaches High School in St. Paul, Mn. and does, "Drums From A Small Planet" workshops around the midwest. He is the author of the drummer's and facilitator's book, "Drum Circle Cookbook", and "Hand Drumming Independence". Kenne is a MOUNTAIN RYTHYM Drum Co. Artist.
Christine Stockwell (Jembe, Dunun, Jabara, Perc.) - Hand drummer, Vocalist. Christine has a Bachelors degree in vocal performance from North Central Bible College in Minneapolis, MN. Christine was not allowed to play drums back in 5th grade band due to a lack of piano lessons (which have now been taken and enjoyed very much!). When she had a chance to learn the basics in a college class, she took a stab at it, and ended up playing weekly at church for a few years. While working in a music store, she took some hand drumming classes and ended up quitting only because her teacher (Matt Rappaport) left the country for a long time. Now she's happily playing away again - "I love my djembe." Other interesting things: amateur photographer, t-shirt collector, and really just a generally smiley person.
Nels Linde (Jembe, Dunun, Perc.) - Drum maker, teacher, facilitator. Nels performs with the West African Percussion Society in Eau Claire , WI. He teaches Hand Drumming, and is the staff advisor for the UW Stout Hand Drumming Club in Menomonie, Wi. "Beginning with hoop drums over 15 years ago I've learned all I can about hand drums of all kinds from experts all over the country. Traveling and exhibiting at fairs and festivals has helped me meet a broad range of builders and players of all types! I have a commitment to craftsmanship as an exhibiting craftsman in ceramics on a national level for twenty years."
Mark Lopez (Jembe, Dunun, Perc.) - Mark enjoys playing djembe and conga, and is very happy to be a part of M'pulse! He is a filmmaker, with credits ranging from local independent films to music videos to TV commercials. He is a former bass player of the Twin Cities dance band "Affair", which toured the Upper Midwest as well as Montana, Wyoming and Colorado in the mid 1980's. He also played bass, guitar and keyboards in several other local Twin Cities bands. Mark is an afficianado of, and self-styled expert on old monster movies and Halloween, and thus, prides himself on being the "scariest" member of M'pulse!
Michael Bissonette (Jembe, Dunun, Surdu, Perc.) - Teacher, facilitator. Mike is a well known world percussion recording artist. He teaches hand drumming classes and works with Paulo Mattioli in workshops and clinics. Michael is a REMO Drum Co. Artist.